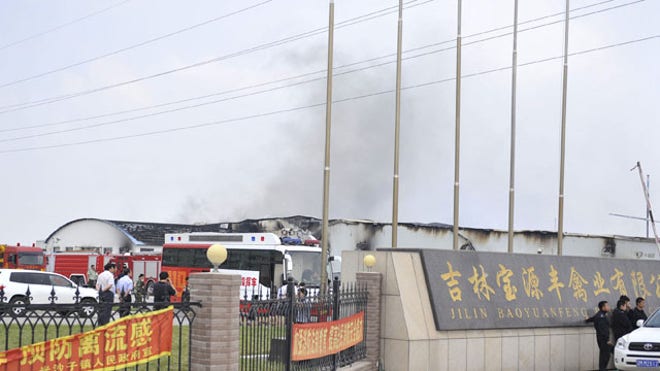 The accident site after a fire occurred at the Jilin Baoyuanfeng Poultry Company in Mishazi Township of Dehui City, northeast China's Jilin Province. (AP/Xinhua)
BEIJING – A massive fire broke out at a poultry plant in northeastern China early Monday, trapping workers inside a cluttered slaughterhouse and killing at least 112 people, reports and officials said.
Several dozen people also were hurt in the blaze in Jilin province's Mishazi township, which appeared to have been sparked by three early-morning explosions, the official Xinhua News Agency said. The provincial fire department, on its microblog, attributed the blasts to an ammonia leak.
State broadcaster CCTV quoted unidentified workers as saying the fire broke out during a change of shifts at the plant, owned by Jilin Baoyuanfeng Poultry Co., and may have originated in a locker room at a time when about 350 workers were at the site.
The plant's `'complicated" interior, narrow exits and a locked front gate made escape difficult, Xinhua quoted survivors as saying. It appeared the death toll could continue to rise as more bodies were recovered from the charred buildings.
Some employees raised the alarm about a fire shortly after a shift began at 6 a.m., and then the lights went out, spiking the level of panic as workers rushed to find an exit, 44-year-old Wang Fengya told Xinhua.
"When I finally ran out and looked back at the plant, I saw high flames," Wang was quoted as saying. Xinhua said she and three other workers were sent to a hospital in the nearby provincial capital of Changchun.
The disaster killed 62 people, and 54 people were being treated in hospitals, the fire department said in its microblog. Calls to fire and rescue services rang unanswered and hospital administrators said they had no information about the injured.
By about noon, the fire had been mostly extinguished and bodies were being recovered from the charred buildings. CCTV footage showed dark smoke billowing up from the prefabricated cement structures topped with corrugated iron roofs.
The fire highlighted the lax safety standards at many Chinese workplaces.
It could also focus renewed scrutiny on China's biggest pork producer, Shuanghui International -- unrelated to the poultry plant -- as it aims to buy U.S. food giant Smithfield in what would be China's biggest takeover of an American company.
Jason Yan, technical director of the U.S. Grains Council, in Beijing, said safety considerations usually came last in the design of such buildings behind features to maximize production and energy efficiency.
"I'm sure they consider some aspects of safety design. However, I think safety, to me, is not the first priority in their design plan," Yan said.
Jilin Baoyuanfeng produces 67,000 tons of processed chicken per year and employs about 1,200 people. The plant is located outside the city of Dehui, about 250 miles northeast of China's capital, Beijing.